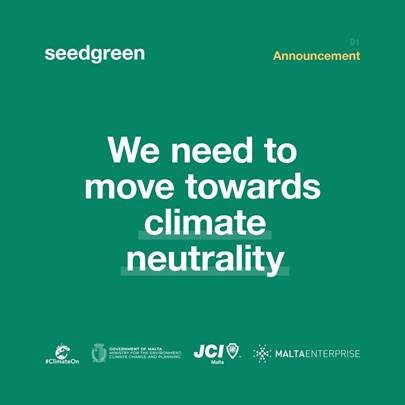 SeedGreen Programme
Do you have an idea that can potentially reduce the effects of Climate Change? SeedGreen is your chance to obtain assistance so that your green idea becomes a reality!
As part of the #ClimateOn National Campaign the Ministry of Environment, Climate Change and Planning together with the Junior Chamber International Malta and the support of Malta Enterprise has launched a program for those individuals wishing to develop their idea into a start-up or potential project.
Those interested are requested to visit www.seedgreen.org or else email: info@seedgreen.org or call 23316229 for more information.
Do not miss this opportunity!! Applications close by Friday the 28th May 2021.
Check out the SeedGreen video for more information and follow the #ClimateOn Campaign on Facebook and Instagram for more updates!
#ClimateOn – Turn on The Power For Change"